Yeah, this post has nothing to do with the recently announced PlayStation 4. I just thought pretending to have something tangible to say would draw in readers. Because I'm a slut. There's not really a reason for me not to talk about it, I just don't really have much to say. I didn't watch the press conference, and if you actually care about the specs, you sure aren't going here first to find them. It's another console, and that's about all there is to say. Well, now that you know I won't be discussing the PS4, I'll just put this picture here for the link preview. Okay? Okay.
This picture. Right here.
Instead, let's look at the Oscars, the award show where, after Sunday, we'll finally get to know which film was the most pretentious. Here's a bit of Oscar trivia for you: The Oscars are named after Oscar "The Grouch" de la Renta, acclaimed fashion designer who lives in the garbage. His nickname comes from the infinite sadness found throughout his depressing existence.
There's no happiness in that smile. None.
I thought I'd go through my predictions for two of the most sought-after and prestigious categories: Best Original Screenplay and Best Picture. So here we go.
Best Original Screenplay: Dora's Christmas Carol Adventure
This one was a tough pick. With so many Holiday-themed children's specials out there, choosing one put me in quite the pickle (Eat a dick, Wonderpets! Save Kwanzaa). However, this film's superb screenplay puts it a cut above all the other entries. It all comes down to how the script portrays the protagonist. I believe that while making Dora into a cannibalistic bisexual was a difficult task, the finished product speaks for itself. I'm also going to toss this one into the category of "shoo in for Best Sound Mixing." The screams of Dora's victims pierce the mind, and makes the film all the more effective. However, in terms of screenwriting, Dora's Christmas Carol Adventure is truly Aaron Sorkin at his finest.
Best Picture: The Oogieloves in the Big Balloon Adventure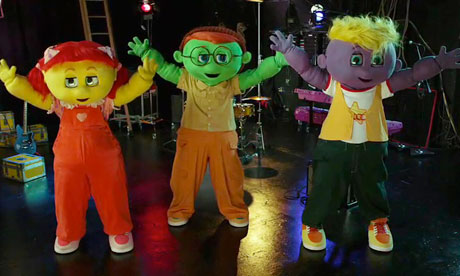 You should have seen this one coming. I was a huge proponent of this film, even when it came out all the way back in Oogust. Oogieloves is possibly the defining work of our generation, in any medium. Between the grade A cinematography and stellar performances by powerhouses such as Cloris Leachman and Toni Braxton. Yet, what truly takes this film over the top is its themes. It poses the question that no one's had the guts to ask before: How pleasurable is sadomasochism? In addition, the concept of the big balloon representing the lost American Dream was heartbreaking; you chase and chase, but you can only get there with the help of Christopher Lloyd. Powerful stuff.
How the other categories play out remains to be seen. And after Sunday, we'll need to take a look at the future of cinema. Personally, I'm most excited for the planned Power Rangers / Reservoir Dogs crossover. It involves a botched assault on Rita Repulsa, and, if early spoilers are to be believed, Mr. Orange Ranger was the rat all along.
"Stop aiming that power sword at my dad!"
If you've read this far, that just proves that you'll read an entire page of nonsense just to learn how bad you are at time management. Comment. Or whatever. If you're real.